Abbotsford's Historic Downtown Retail Market Update 2021
Below is Frontline Real Estate Services' latest report on the commercial real estate market in Historic Downtown Abbotsford. Included in the report you will find a recap of past transactions and future development highlights, both of which provide insight into the current state of the market and the future of the neighbourhood.
After a lull in early 2020, the last twelve months have seen a steady stream of commercial property sales and an increase in commercial property sale prices and lease rates. There has also been an influx of new developments, both commencing construction and making progress through the application process.
This increase in activity was originally kicked off by the new Historic Downtown Neighbourhood Plan and we expect it to only accelerate as the City of Abbotsford continues to invest in the neighbourhood, more homes are built, and more new residents move to the area.
Development Highlights
Below you find details on a few developments coming to Historic Downtown Abbotsford. The location of each is also indicated on the map below.
1. 2673 Trinity Street
Mid-rise apartment building
90 residential rental units
112 underground parking spaces
Built by Westurban Developments
2. 2427 Montrose Ave
Two 6-storey apartment buildings
5 pedestrian-oriented commercial units totalling 6,000+ sf
134 residential units
Underground parking
Completion expected 2024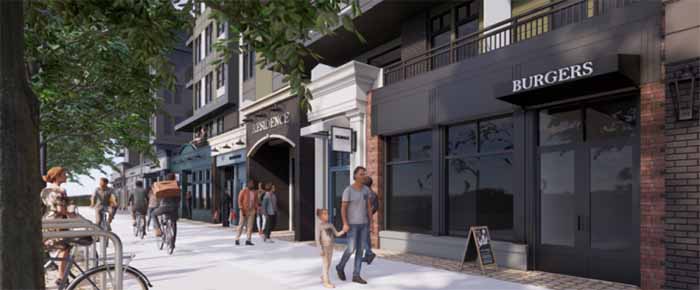 3. 33816 South Fraser Way
Two 5-storey mixed-use buildings
10 pedestrian-oriented commercial units
90 residential units
Built by Keystone Architecture
Commercial Real Estate Transaction Recap
Below is a recap of commercial real estate transactions recorded between May 2020 and May 2021 in Historic Downtown Abbotsford. We have also included details on 3 recent transactions that were brokered by us at Frontline Real Estate Services. All of the transactions are highlighted on the below map in red.
Building & Unit Transaction
Transaction Spotlight
Recent transactions in Historic Downtown Abbotsford that were brokered by Frontline Real Estate Services.
SOLD: 33761 Essendene Avenue
6,977 sf retail building
Corner exposure on Essendene and Montrose Ave
Sale price: $1,575,00
This property is currently available for lease click here to learn more!
Thank you to Mike Grewal Personal Real Estate Corporation of Colliers International for his cooperation on this transaction.
SOLD: 33765 Essendene Avenue
7,820 sf retail building
Long term tenant
Sale price: $1,700,00
Thank you to Elvin Toews Personal Real Estate Corporation of Lighthouse Realty Ltd & Douglas Neetz of Glenayre Realty Company Ltd. for their cooperation on this transaction.
LEASED: 2603 West Railway Street
1,856 sf second floor office space
1,530 sf pedestrian-oriented retail space
Exterior improvements completed
3 – 10 year lease terms
Questions?
If you have any questions or would like to learn more about the commercial real estate market in Historic Downtown Abbotsford, please don't hesitate to reach out.
Sources: City of Abbotsford, Commercial Edge, Frontline Real Estate Services Ltd., Keystone Architecture, Westurban Developments.