Brookswood-Fernridge OCP Receives 3rd Reading
| BY Justin Mitchell, Adam Lawrence & Megan Johal
Township of Langley Council votes in favour of Official Community Plan update.
On October 23, 2017 Township of Langley Council voted once again on 3rd Reading for the Brookswood-Fernridge Official Community Plan (OCP) update. In an unprecedented 7-2 vote in favour of 3rd Reading, we received the long-awaited conclusion to nearly 2 years of planning, public consultation, debate, drafting and revision.
The council meeting began with a presentation by Township staff to review previously approved amendments to the draft OCP and additional amendments resulting from the September 11th meeting of council. Staff then presented their recommendations to council.
Staff's recommendations included a lengthy response to proposed language changes to the draft OCP, which were a result of the September 12th public hearing, and a recommendation to allocate $500,000 in the 2018 budget for neighbourhood planning. Staff proposed immediately initiating the planning process for 3 of 4 Brookswood Neighbourhood Concept Plans (NCPs): Rinn, Booth and Fernridge. Similarly, staff recommend new rezoning and development applications be reviewed concurrently with the Neighbourhood Plans to abate delays.
Prior to the 3rd Reading vote for the updated OCP council passed the following amendments:
Minor adjustment to verbiage in the proposed plan
Revision of the application cut-off date for consistency with the October 23, 2017 3rd Reading decision by Council. Applications received after this date will be considered with respect to the updated OCP
Clarification regarding the term "watercourses" in the plan to also include "water bodies and environmentally sensitive areas" after concern was expressed regarding the preservation of the man-made water bodies.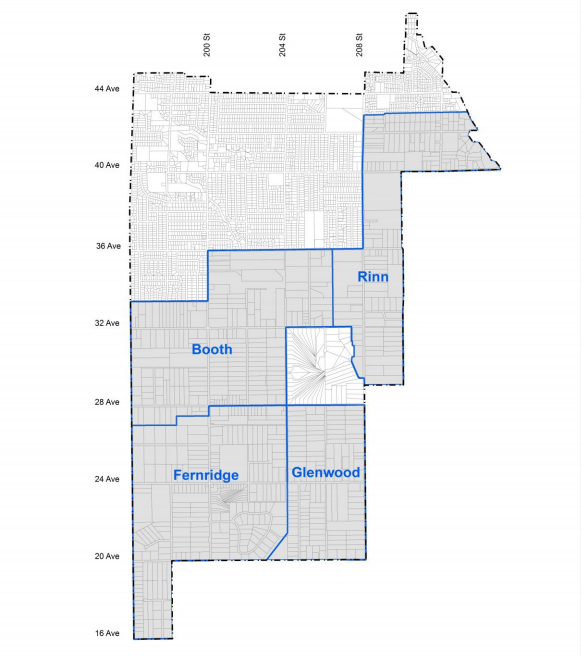 So, what does this mean for the development community and Brookswood land owners? Monday's vote confirmed the future land uses and added clarity to the development timeline in the undeveloped area of Brookswood. Prior to Monday's vote, these unknowns had many in the development community sitting on the sidelines. The certainty resulting from 3rd Reading on the OCP will likely see development and trading activity in the area pick up again. For information on current opportunities and market activity in Brookswood, feel free to reach out to Frontline Real Estate Services' development land specialist Mike Harrison at [email protected].
Related articles:
Brookswood-Fernridge OCP: Another Open House, published July 26th, 2017
TOL Advances Community & Neighbourhood Plans, published June 30th, 2017
Update: Brookswood OCP Draft Open House, published May 18th, 2017
Brookswood-Fernridge OCP Update,  published April 13th, 2017