How to Calculate Commercial Property Value
In this article, the three primary methods used to determine commercial property value will be discussed. Understanding which method provides the highest valuation for a property ensures the right group of buyers is targeted, which in turn will maximize sale price.
The three methods used to calculate commercial property value in the Fraser Valley are:
Comparable Valuation

Investment Valuation

Redevelopment Valuation
Each of these is explained below:
Comparable Valuation
Using recent comparable sales transactions as the basis for value is the most common valuation method for commercial properties. The average price per square foot is derived by analysing recent comparable property sales, which is then used to calculate the property's value.
If the comparable valuation yields the highest value, it is recommended to sell the property vacant to an owner-occupier (a business that will both own and occupy the property).
Simplified, this valuation method looks like this:
Investment Valuation
A few variables must be known to analyse the investment value of a commercial property. These include:
The property's expenses
The property's rental income
The market capitalization rate, also known as "cap rate", for comparable buildings in the same geographical area
Note that if the property is vacant, an investment valuation is still possible. Potential rental income can be calculated based on comparable area lease rates.
Suppose the investment valuation yields the highest value. In that case, it is advisable to secure a tenant and then advertising the property to investors.
Simplified, calculating the value of a property for an investor looks like this:
Redevelopment Valuation
This method of valuation is also known as the "residual land value". This method involves running a development proforma. The proforma provides the financial projections for the theoretical development that could be built on the property. This assessment is done to know whether the project makes any financial sense, and in addition, it provides the maximum that a developer can pay for the property.
If the redevelopment valuation derives the highest value, then it is recommended to advertise the property's redevelopment potential to builders and developers.
Simplified, the development proforma looks like this: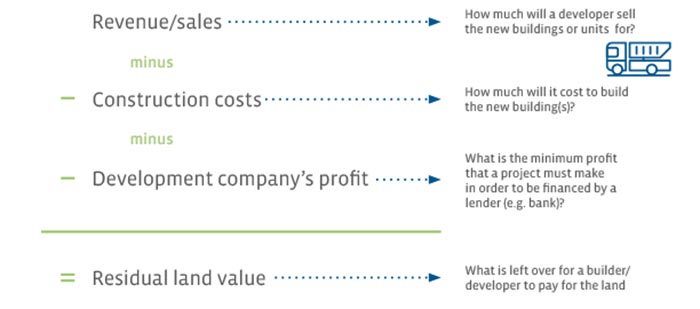 These are the three most common ways to calculate commercial property value. Before selling a commercial property, it is crucial to assess and understand the property's value. Follow the link below for a case study showcasing how analyzing all three valuation methods assured a property was priced appropriately and helped maximize the ultimate sale price:
Case Study: Commercial Property Valuation in Surrey City Centre
If you would like more information regarding commercial property values in the Fraser Valley, please contact us or click here to subscribe and receive information like this, plus listings and transactions, right to your inbox.