South Surrey Neighbourhood Update 2017
| BY Justin Mitchell, Adam Lawrence & Megan Johal
The map below outlines the average selling price per acre of residential development land in each of the major development neighbourhoods in South Surrey for sales in 2016. It is worth noting that the average selling prices shown in the enclosed are of transactions over the course of 12 months. In a market that has generally been trending upward, there will be many properties that would outperform these averages if sold today.
Accompanying the map are updates on the status of each neighbourhood, as the status greatly impacts the selling prices of development land in each area. Click here to read our South Surrey Development Forecast article.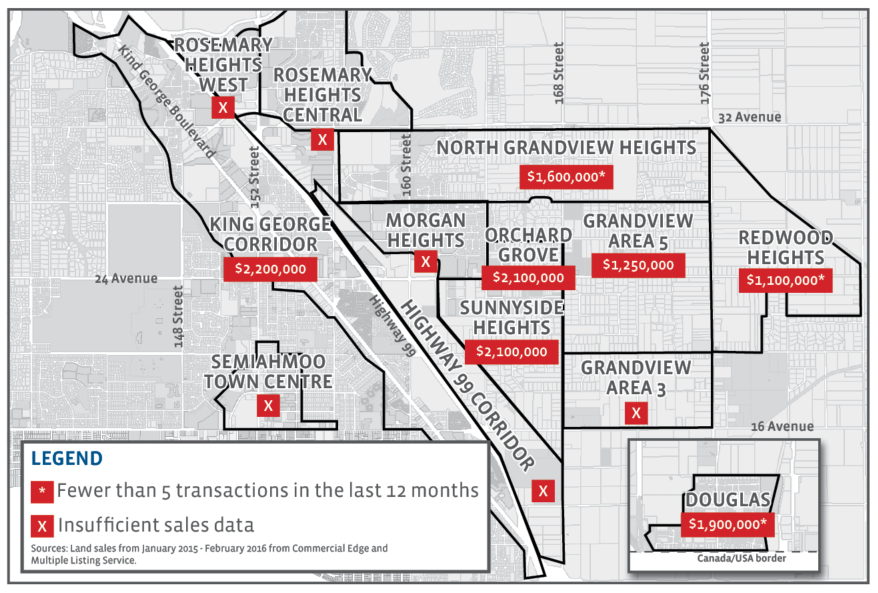 Current State of South Surrey Neighbourhoods
Grandview Area 2 – Sunnyside Heights
The majority of developable land in Sunnyside Heights has been secured by developers and is currently under application. Over 15% (60 acres) of the land in Sunnyside Heights traded in 2016 alone, not accounting for any properties put under contract last year that have not closed yet.
The servicing challenge holding up development just north of 20th Avenue, east of 164 Street has been resolved and will no longer be stalling those development applications. We anticipate a flood of single family development in the coming months as a result. Similarly, the City of Surrey engineering department anticipates completion of the Fergus Pump station and force main by late Spring 2017, allowing new development to proceed with site servicing.
The City of Surrey is currently conducting a review of the densities within the Sunnyside Heights plan. The result will likely be a reduction in density of a number of properties currently designated for apartments and an increase in density of the properties south of 16th Avenue currently designated for low density single family.
Grandview Area 3
The City of Surrey anticipates development to advance in Grandview Area 3 before the servicing challenges in Redwoods Heights are resolved (see below). The Neighbourhood Concept Plan process kicked off last year and city staff anticipate 2 years for the completion of Stage 1 (land use design) and an additional year for Stage 2 (engineering study). Grandview Area 3 will be serviced by the Fergus Pump Station, which will be completed well in advance of the plan completion. Storm water will be a challenge in this neighbourhood, given the topography and drainage towards the ALR land to the south.
Grandview Area 4 – Redwood Heights
Developers remain apprehensive to purchase property in this area due to an unknown timeline on resolving the servicing challenges. There have been rumors of an alternate path for sanitary servicing to overcome the current challenges but City engineers have confirmed this is a very unlikely outcome.
2016 saw very few land trades and a handful of unsold listings. The lack of transaction data makes it difficult to estimate market value for properties in the neighbourhood.
North Grandview Heights
Development will continue to progress from West to East as long-term residents begin to sell their acreages. Country Wood Estates is likely to achieve their re-designation to rural, to protect the unique feel and character of the subdivision. North Grandview Heights continues to play a significant role in the servicing challenges in Redwood Heights as servicing for Redwood Heights is routed through North Grandview Heights which also contains the future pump station servicing Redwood Heights.
Grandview Area 5a – Orchard Grove
Development really took off in Orchard Grove over the past year with new projects from Qualico Developments, Ikonik Homes, Miracon and others. Very little land remains unclaimed by developers as demand for homes in this area is incredibly strong. Development land in Orchard Grove remains some of the most valuable land in Grandview.
Grandview Area 5
A neighbourhood plan has yet to be established for this area, despite the development of the new aquatic centre. The market frenzy in 2016 resulted in several land transactions with unexpectedly high purchase prices given the extended timeline to development. Future land uses remain uncertain throughout this area and surprisingly there has been very little interest, from land owners, expressed to City staff for the development of a neighbourhood concept plan.
Douglas
Development continues to spread in Douglas with a number of new development applications in process. An application has been made for a large senior's care site in the eastern portion of Douglas and along 172nd there has been progress by Dawson & Sawyer on their townhouse development and a mixed-use development, the later of which will bring some much-needed amenity to the area. Unfortunately, the future school site continues to be pushed down the City of Surrey's priority list.
King George Highway Corridor
Activity in 2016 has been focused in the northern portion of this neighbourhood with new developments
coming from Dawson & Sawyer, Quadra Homes, and more. The City of Surrey also purchased the driving range last year.
Rosemary Heights Central
Applications have started trickling in to the City of Surrey from owners in this neighbourhood, as a majority of the properties have already been purchased by developers.
Rosemary Heights West
Little has changed in Rosemary Heights West since our last status report as the neighbourhood is substantially built out; however, Portrait Homes has just begun construction on their single family subdivision in the northwest of the plan.
Highway 99 Corridor
The City of Surrey's primary objective for this neighbourhood has been to create employment by limiting the amount of residential development.
Grandview Area 1 – Morgan Heights
This neighbourhood is substantially built out and has seen minimal development action over the past year.
Semiahmoo Town Centre
The Semiahmoo Town Centre plan continues to await an update and City planning staff indicate there has been minimal attention paid to this update over the past year. Focus is generally given to neighbourhoods from where the City receives the greatest interest from the development community.
Feel free to reach out to us if there is any additional information that would be particularly relevant to your investment strategy.