Guildford Town Centre & 104 Avenue Corridor State of the Market Report 2018
| BY Justin Mitchell, Adam Lawrence & Megan Johal
What is happening in Guildford & why it matters.
The City of Surrey is progressing quickly through the planning process for a new neighbourhood plan at Guildford Town Centre and along the 104 Avenue Corridor. On March 1st, 2018, City planning staff presented two draft land use plan concepts at a public open house to gather community feedback. With that feedback a single preferred land use plan was created and presented at a subsequent public open house on May 29th, 2018. This preferred land use concept outlines the proposed future densities, housing forms, roads and more, for the properties within the plan's boundaries.
City planning staff are in the process of completing the land use plan and drafting the urban design guidelines. Once the land use plan is finalized, Fall and Winter 2018 will be spent finalizing the neighbourhood plan which includes, among other items, the engineering servicing plan (outlining what sanitary, water and drainage services are required to service the new development), the financial strategy for the growth of the neighbourhood, and future community amenities.
PREFERRED LAND USE MAP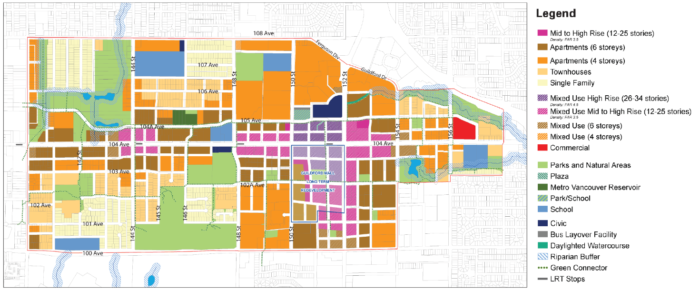 plan HIGHLIGHTS
High rises (approx. 30 storeys) are proposed adjacent to Guildford Mall at the old Sears site
Lower towers (approx. 24 storeys) and mixed use buildings are proposed adjacent to LRT stops
Low rise apartments (4- 6 storeys) are proposed along 104 Avenue outside the town centre.
Densities transition down to townhouse and single family away from main roads and LRT stops
Many new parks and natural areas are proposed for the neighbourhood
A new school is proposed within the town centre
DEVELOPMENT ACTIVITY
The announcement of the new light rapid transit (LRT) and the resulting introduction of the new draft land use plan for Guildford Town Centre & 104 Avenue Corridor has moved the Guildford area of Surrey into the spotlight. Development has only just begun, but developers and investors see the potential in the area and are eager to get in on the ground floor.
The map and table below showcases the current, in-process residential development applications. With the neighbourhood plan still in the planning stage there are only a few new development applications thus far, but these provide a small sample of the type of development to expect over the coming years.
If you have any questions, or if there is any further information that would be particularly helpful to you, don't hesitate to contact Mike Harrison.
Sources: Commercial Edge, MLS, City of Surrey.