Large-Scale South Surrey Development Site Hits the Market
| BY Todd Bohn & Braydon Hobbs
 As South Surrey's residential population booms, more jobs and amenities are needed. Is this development site the solution?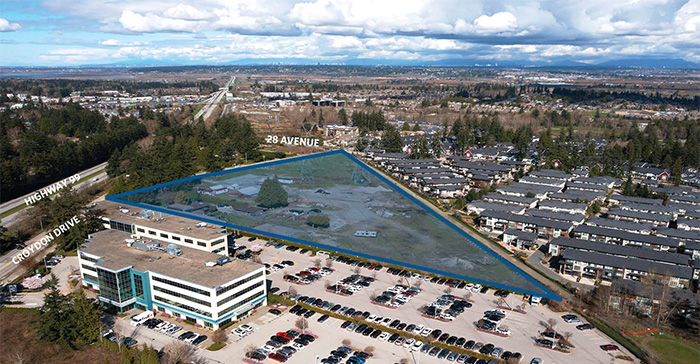 Surrey, BC – May 26, 2022 – As the City of Surrey continues to make headlines due to its explosive growth1, South Surrey has seen the most notable increase in residents2. The updated land use plans in South Surrey's neighbourhoods have brought increased residential density and a variety of new home types, making the enviable South Surrey lifestyle available to more people.
More people means an increasing need for more shops, community amenities, and local jobs. A new property that just hit the market presents the opportunity for a developer or business owner to make their mark by providing these essential things. "The sky is the limit in terms of what a creative developer could build," says Greg Mitchell, Senior Development Manager at Primex Investment Ltd. – the current owners of the site.
The 9 acre development property is designated for a variety of "job creating" building types. "The really exciting piece is the flexibility that the site offers", says listing agent Todd Bohn of Frontline Real Estate Services. The Mixed-Employment designation gives the future developer a lot of room to get creative, while also de-risking the purchase from potential shifts in market trends.
Development sites of this size are becoming increasingly rare across the region, not to mention ones in such a prime location as the Highway 99 corridor. "The benefit to having a business in this area is the ease of access from all of the nearby communities in the region," says listing agent Braydon Hobbs, "this area offers immediate proximity to all the things a business owner or an employee would need to have an amazing lifestyle".
To learn more about this property listing click here.
Sources:
1 Surrey's millennial population growing at a faster pace than the rest of Canada, by Lauren Collins for Peace Arch News, The future lives here: Surrey population growth rate outstrips Vancouver by almost double, by Carlito Pablo for The Georgia Straight
2 Surrey's population grows to 568,000, with certain communities seeing 10% growth, by Lauren Collins for Surrey Now