The Commercial Lease Puzzle
Top Negotiating Points in a Commercial Lease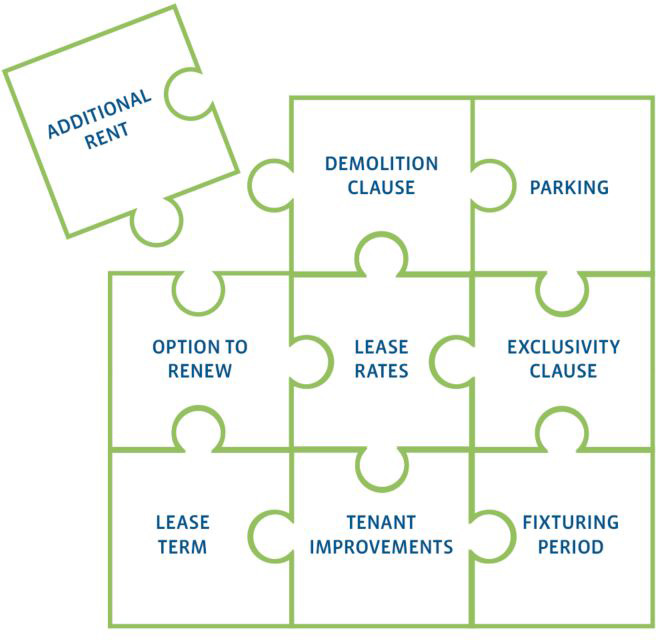 There are a lot of "pieces" to consider in a commercial lease and each can be a negotiation point whether you are:
A commercial property owner looking to lease your property to a tenant
A business owner looking to lease a commercial property
OR
A business owner looking to sublease your current commercial property
Type of Rent
The type of rent that is agreed upon will determine what is covered by rent and if the amount fluctuates or not.
Basic or Net Rent
The amount paid per square foot of the leasable area is called the basic or net rent. This rate is determined by the market and further negotiated between the tenant and landlord. Depending on the agreed upon rates and terms, the net rent may remain the same or escalate throughout the term.
Additional Rent
Paid on top of the net rent, the additional rent is required to cover the landlord's operating expenses, such as property taxes, maintenance and insurance. The amount is an estimate of the operating costs, which is determined during the pre-lease negotiations and shared proportionately by all the tenants in the building. The additional rent is reconciled at the end of each year of the lease term. Thus, it can fluctuate from term to term if expenses change.
Gross rent
Gross rent is the total amount that will need to be paid to the landlord monthly. This amount includes a market basic rent value plus operating costs. This amount does not fluctuate with landlord expenses.
Lease Rates
No matter what type of rent you are paying, the lease rate is determined by researching market rates using a variety of resources to examine comparable properties that have recently been leased. Asking rates of current listings can also be used but are not very helpful as they are not necessarily a strong indication of what the market is willing to pay. Unlike sale prices, lease rates of past transactions are not readily available to the public or Realtors, and therefore can be more difficult to research. At Frontline Real Estate Services, we leverage the established relationships we have with other brokerages, landlords, and appraisers to get reliable information on recent lease transactions.
Parking
Parking is a very important asset for many business types and should be outlined in a lease. How many parking stalls does a business need for employees and clients/customers? Is there reserved parking or is it first come, first serve? Is there overflow parking on the street? Some tenants, like a fitness centre or restaurant where clients come and stay for an extended period, may need lots of parking while others will need less.
Amenities
Amenities can be any variety of perks included in a lease. Is there use of an outdoor patio, gym, or extra meeting spaces? Amenities are a way that landlords can attract tenants, as well as a way for tenants to attract and retain employees, while providing creative space solutions.
Tenant Improvements
The lease should define who pays for tenant improvements and what is included, for example: new demising walls, a kitchen, built-in furniture, electrical or plumbing requirements. If a space is newly constructed it is not uncommon for a commercial real estate broker to negotiate that the landlord contributes to these costs, through a tenant improvement allowance. This is usually based on a dollar amount per square foot.
Tenant Improvements are also sometimes called: Turnkey improvements, leasehold improvements
Fixturing Period
If the tenant needs time to "improve" the space prior to being able to operate out of a space there may be a fixturing period included in the lease. This is a defined period of time prior to lease commencement when the tenant is allowed access to the property to make improvements. During this time, the tenant will usually have free net and additional rent but is responsible for the cost of utilities.
Fixturing Period is sometimes framed as: free rent (the lease commences but the tenant does not have to pay rent for a defined period of time, giving them time to do their improvements)
Lease Term
The length of a lease can be a powerful negotiating tool. Typical lease terms will vary from market to market based on supply, demand, and other conditions. In the Fraser Valley office and retail market, lease terms usually range from 3 to 15 years. A shorter lease term will usually result in fewer incentives offered by the landlord, as the tenant may chose to leave at the end of their term, while a longer lease term may give the tenant more negotiating power.
Option to Renew
At the end of a lease term, the tenant may choose to leave their current space or request to renew their lease with the landlord. If their current lease includes an option to renew the landlord must give them that option and the tenant must exercise that option within the timeframe stipulated in the lease. An option to renew is always in the favour of the tenant as it allows them to negotiate a shorter lease term without the risk of losing the space after the initial lease term ends. That being said, the renewal lease rates are at the discretion of the landlord and will be market rates, which can increase substantially from when the initial lease was negotiated.
There can also be other "options" included in a lease, like having the right of first refusal to lease an adjoining unit for expansion.
Lease Termination and Demolition Clause
How and why either a tenant or landlord may terminate the lease should always be spelled out clearly in a lease. For example, what happens if the tenant misses a rent payment? Can the tenant sublease the space if they need to move? What happens if the building is sold? Sometimes a demolition clause will be included in a lease, which outlines that if the owner wants to demolish and/or redevelop the property, the current lease can be terminated. The demolition clause is something to consider carefully and is especially important to the tenant if their improvements to the space are costly.
Exclusivity Clause
An exclusivity clause requires a landlord to get a tenant's consent to rent space in the same building to a group that offers the same products or services as the existing tenant. This may be particularly important to retailers, as opposed to office users who may find it beneficial to be near synergistic businesses. A landlord is less likely to agree to this clause if the tenant's lease is for a short term or a small amount of space as it impacts their ability to lease space to a larger tenant down the road.
the final piece
As you can see, there are a lot of different pieces to consider in a commercial lease. No matter if you are the landlord or the tenant, making sure you have the time (having to make a decision under pressure is never advantageous) and expertise to negotiate your lease terms is key in achieving your desired outcome.
Hiring a commercial real estate broker, like the experts at Frontline Real Estate Services, will help protect you from missing out on an advantageous term in your lease and help avoid mistakes. If a lease is signed without adequate review and expert advice it can result in all sorts of unexpected costs or unfavourable situations. Please reach out to us to learn more about how a commercial real estate expert can help you with your lease.