Missed Opportunities in Fraser Valley Mixed-Use Developments
Development is booming in the Fraser Valley with increased density coming to many neighbourhoods in the form of mixed-use developments. While the commercial component of mixed-use developments may be a small percentage of the space, it can greatly boost the profitability and reputation of a project.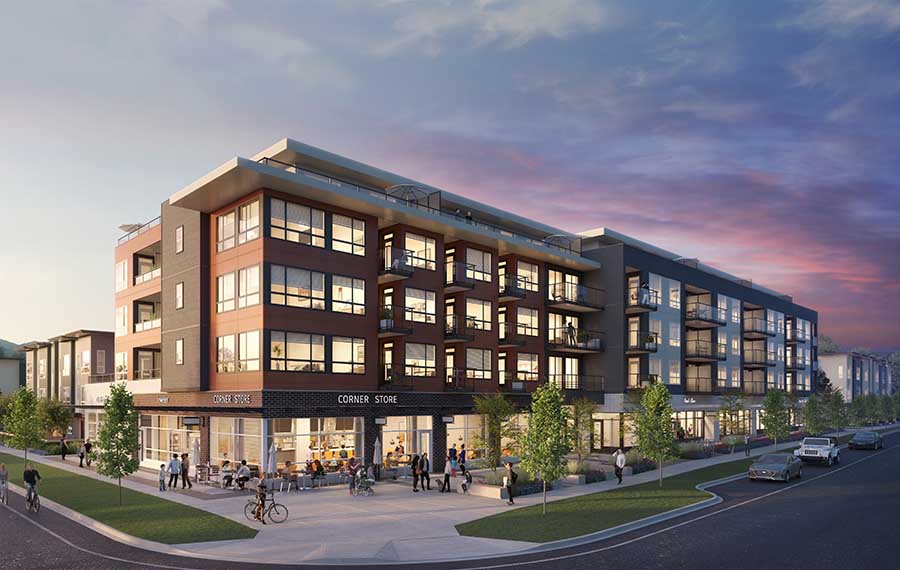 The development boom in the Fraser Valley seems to be only accelerating as demand for homes is causing sales records to be broken month after month.
Part of this boom is the development of mixed-use buildings. We've seen more and more mixed-use developments pop up in the Fraser Valley in recent years as municipal planning department's community and neighbourhood plans (some decades old) have taken shape. Many of these plans introduced residential density allowance on existing commercial sites, where the commercial floor space needed to be replaced in the new development. While in other areas, new neighbourhood commercial nodes were designated on land that was previously purely residential. These nodes were planned to assure that when the population increased in an area, there were local retailers and services for the new residents.
commercial UNITS IN FRASER VALLEY MIXED-USE DEVELOPMENTS: a missed opportunity?
Originally, many of these mixed-use developments were being planned with the commercial units being considered as a pure expense. A big $0 profit could often be seen on development proformas. This was due to a few factors, but a big one was that there was still a lack of demand for the commercial space. A bit of a "chicken and egg" situation meant that many businesses did not want to lease or purchase a commercial unit in a new area where their success was questionable, since their local customers hadn't moved in yet. Now that the population has ballooned across the Fraser Valley, commercial real estate values are accelerating, even in more rural neighbourhood nodes. The commercial portion of any mixed-use development should be considered a huge asset for a project.
THE VALUE OF commercial UNITS IN MIXED-USE DEVELOPMENTS
Commercial assets continue to be undervalued by builders and developers. This has become even more troublesome as the spike in demand for commercial space in the Fraser Valley has become an incredible revenue generator for savvy developers, investors, and buyers. Commercial space can now often be sold for more per square foot than residential, while costing a lot less to build.
At Frontline Real Estate Services, we are seeing high demand for commercial real estate in the Fraser Valley. Retail units that were put under contract a year or two ago for approximately $400 per square foot are being flipped for up to $800 per square foot. While demand and values have risen, so have the number of options. This has allowed business owners to become more particular and have higher expectations. Many business owners in the market today are much more sophisticated about their real estate requirements than even 5 years ago. This means developers need to provide high-quality and well-planned units to achieve the high rates and prices that are very possible in the Fraser Valley commercial market today.
How to achieve success with your commercial units
The success of the commercial units in your development, whether selling or leasing, comes down to planning.
We help developers maximize profits and achieve project goals by consulting early on in the development process. This assures that everything, from how units are demised to venting and parking, is considered from both the residential and commercial buyer/tenant point of view.
The advice we provide comes from direct commentary we receive from purchasers and tenants: what they are looking for, what they need, and what they will pay extra for. We also provide market insight to help determine timing, competition, and ideal tenants/buyers for your project. Call us today to learn more about our keys to a successful mixed-use project.